Browse:
Home
/
Gujranwala Jalsa
By Tahir on November 24, 2014
Teherek-e-Insaaf Chairman Mr. Imran Khan 62nd Birthday Anniversary on Nov 25, 2014 Lahore (Monday, November 24, 2014) – PTI's Charman Mr. Imran Ahmad Khan Niazi will celebrate it 62th birthday anniversary tomorrow on Tuesday, November 25. He will be now 62 years old. Now a days he launching a movement against PMLN government. He is […]
Posted in Politics | Tagged Gujranwala Jalsa, Imran Khan, PTI | Leave a response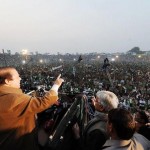 By Tahir on December 31, 2011
Pakistan Muslim League-Nawaz (PML-N) will hold a public meeting in Gujranwala today against governemt's corruption, ongoing loadshedding and price hike.
Posted in Misc., Showbiz | Tagged Gujranwala Jalsa, Nawaz Sharif, PMLN, PMLN Gujranwala | 24 Responses